Department for the Study of Religion
Our Mission
Introduce the methodologies of religious studies as an academic discipline

Advance the profession of religious studies through a commitment to scholarly research, publication, interpretation, and discussion

Cultivate an understanding of religious pluralism, including non-religious perspectives, in order to create global citizens in a religiously diverse world, and

Promote informed public dialogue about religion and its influence on society and culture.


Why major in religious studies?
The academic study of religion is central to the creation of a community of world citizens. Our program is designed for students who live in a pluralistic society and who wish to investigate the role religions play in human life and society. Because religion has contributed to the human story of almost every culture, it is difficult to understand human behavior or to interpret world events without grasping how religion has helped to shape them. Read more about the major.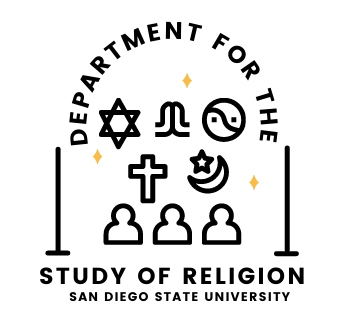 Announcements
Read Dr. Roy Whitaker's recently co-authored article, "Do many Americans believe in the 'great replacement' theory?" which appeared on June 6, 2022, in The Washington Post. The article examines the May shooting at a grocery store in Buffalo, New York, motivated by this conspiracy theory, and how widespread this belief might be among the American public. The study finds that people who fear replacement are more likely to reject diversity and endorse violence against minorities.
The Department for the Study of Religion at San Diego State University invites applications for a tenure-track Assistant Professor position in Islam in the Twenty-First Century, to begin Fall 2023. Review of applications will begin on October 11, 2022. Learn more about the position.

Important Links