News & Events
Upcoming Events
The Antisemitism Crisis in Our Community: Why it Matters, What to Do
Aug 17, 2021 1:30 PM (PST)
Register for this virtiual event
Recent News
Congratulations to Our Outstanding Graduating Seniors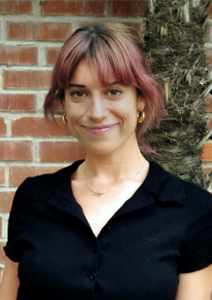 Haley Elizabeth Freeth
Double Major: Psychology and The Study of Religion
Most influential faculty member: Dr. Rebecca Bartel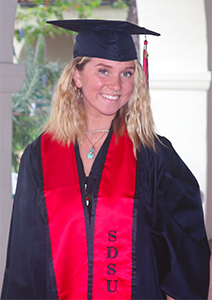 Lauren Ross Schmelzle
Major: The Study of Religion
Most influential faculty member: Dr. Sthaneshwar Timalsina
Check out this amazing interview with Rebecca Bartel about her new book, Card-Carrying Christians: Debt and the Making of Free Market Spirituality in Colombia, in NYU's publication, The Revealer.
Congratulations to Dr. Roy Whitaker whose article "Reflections on Afrika Bambaataa's Universal Zulu Nation: horizons, hip hop, and hybridity," appears in the current issue of the Journal of Contemporary Religion and whose KPBS interview recently aired.
Please join us in congratulating Dr. Drew Thomases, whose article "Appropriating Archetypes: Carl Jung, Hindu Statuary, and Spiritual Seeking in California," is published in the current issue of the journal Nova Religio.
Congratulations to Dr. Risa Levitt whose article, "Divine Presence in the Absence of the Temple" has been published in Contextualizing Jewish Temples: Challenges and Opportunities, eds, Tova Ganzel & Shalom Holtz, Brill Reference Library of Judaism.
Congratulations to Dr. Rebecca Bartel whose article, "Financializing the Soul: Christian Microfinance and Economic Missionization in Colombia" has been published in Critical Research on Religion.
Congratulations to Dr. Roy Whitaker, whose article, "Black utopian and dystopian technological simulation: Tupac Shakur's holographic persona at the Coachella Valley Music and Arts Festival," has been published in Świat i Słowo. Roy was also recently promoted to Associate Professor.
Past News & Events
Congratulations to Dr. Pam Fox Kuhlken whose article, "To Breed or Not to Breed The Last Woman's Bioethics of Sustainability in Facing Extinction through Overpopulation (Putting to Sleep the Hare of Population, so the Tortoise of Sustenance Catches Up)," was published in Confluence: The Journal of the AGLSP.
This Fall enroll in REL 258: Death, Dying, Afterlife. This course looks at how humans deal with death: religiously, spiritually, socially, culturally, and medically. The ways different religions and cultures view death, and how they conceive of the afterlife and its effect on disposition of remains will be covered. We will also examine our own attitudes toward death and dying in light of others' world-views.
Dr. Drew Thomases for his recent publications: A new book, Guest is God: Pilgrimage, Tourism, and Making Paradise in India (Oxford University Press and journal article, 'Out-of-the-Box' Hinduism: Double Diaspora and the Guyanese Hindus of Queens, NY (in The Journal of Hindu Studies) co-written with James D Reich.
Please join us in congratulating Dr. Staneshwar Timalsina who has been awarded an Exemplar Award (2020) for his scholarship by the South Asian Studies Association.
The Rebecca E. Moore Lecture in Religious Studies: A Coming Religious Peace: Or, How the Current Authoritarian Turn in Politics Obscures Deeper, More Hopeful Trends in the History of Religions
Featuring Dr. Jon Pahl, Peter Paul Professor of the History of Christianity in North America at United Lutheran Seminary, Philadelphia
Thursday, April 11 at 3:30pm, Hepner Hall 214
Religions kill. This stereotype conveys a half-truth. Religions are also the most durable pro-social inventions of the human race. The capacity of people to cooperate through religious practices and institutions--the movement of interreligious engagement, is barely a century old, and shows potential to forge what I call "deep peace." This "deep peace" both explains the durability of religions across millennia, and in its details shows a way toward Kant's perpetual peace. Examples of individuals illuminating these trends from the history of religions in the twentieth and twenty-first centuries will include Gandhi, Gulen, Diane Nash and the U.S. Civil Rights Movement, and Liberian Nobel Laureate Leymah Gbowee, along with more durable trans-national institutions--where the work really needs to begin.
Free and Open to the Public
Please join us in congratulating Rebecca Bartel for the publication of her Roundtable in the Journal of the American Academy of Religion which she co-edited Lucia Hulsether: "Classifying Capital."
A new course will debut this fall, Aliens and Religion (REL S 583), which explores religious groups who have developed systems of beliefs and practices with UFOS and aliens at the forefront. Dr. Drew Thomases will teach the course.
Dr. Angela Feres too part in a talkback following the performance of The Spin Doctor by David Budde. The play is a surreal representation of the hate and divisiveness of our times today; about anti-Semitism, racism, and propaganda.
Read the news article, San Diego Jewish community mourns Pittsburgh shooting victims, in the San Diego Union Tribune. SDSU Religious Studies lecturer, Rabbi Scott Meltzer, is quoted.
The Virgin of Guadalupe, Her Miraculous Appearances and Science Fact/Fiction
December 7, 2017 @ 4pm in Little Theater
The Latinx scholarship on the Virgin of Guadalupe is almost entirely hagiographical and avoids the debate over whether the miracle of the Virgin Mary in 1531 Mexico is "real" history. This lecture suggests that appreciating the science fictional aspects of the Virgin of Guadalupe's appearance brings new understanding of that event. Interpreting the original text sources through the materiality of European military science, and New World racial and metaphysical sciences, Guadalupe's miraculous appearance is the reimagining of possibilities: the "science fictionality" of indigenous and criolloMexicans confronted by European science and technologies. The lecture compares the appearance of Guadalupe in 1531 with its reiteration in Cherrie Moraga's 1993 play "Heroes and Saints."
Rudy V. Busto is Associate Professor of Religion at UCSB. His teaching and research interests focus broadly on race and religion in North America, with specific interests in Chicanx religion, Asian American religion, and the intersections of religion and science fiction. He is the author of King Tiger: The Religious Vision of Reies López Tijerina, and is currently completing a manuscript on Asian American religion (DisOrienting Subjects: Asian Americans and Religion), and continues to work on a book project on Chicanx Religion (The Predicaments of Nepantla: Chicanx Religion).
The Rebecca E. Moore Lecture in Religious Studies: Desire, Economics, and the Tantric Frontiers of Global Capital
Featuring Dr. Matthew King (University of California, Riverside Department of Religious Studies)
October 23, 2017 @ 4pm in Little Theater
This talk introduces the notion of the sublimation of capital, secularism, and critique in the tantric economic thought of Shérab Tendar, a contemporary Buddhist monk writing along the Sino-Tibetan frontiers of the People's Republic of China. His widely read and hotly debated ideas are mostly contained in what he calls a "Buddhist Economics" (Tibetan. nang bstan dpal 'byor rig pa). In light of this case study, this talk reflects on the broader implications of such subversions of Eurocentric models of desire and associated moral orders in what has been called the grey frontiers of global capital.
Matthew King is Assistant Professor of Transnational Buddhism in the Department of Religious Studies at the University of California, Riverside. His published work to date explores the social history of knowledge and material culture in Tibetan and Mongolian Buddhist monasteries during the collapse of the Qing Empire and the rise of nationalism and state socialism in Inner Asia.
This lecture is made possible by a generous donation from Reverend Stephen J. Mather
Free and Open to the Public